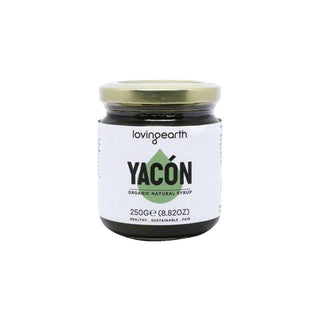 Gluten Free
Organic

Vegan
Free Delivery
For all orders AU over $95
Quick Dispatch
Get your order in 2-7 business days
Yacon Syrup is a natural sweetener made from the extracted juice of the yacon, a tuber vegetable native to South America. The syrup, which has a caramel-like taste that works well as a substitute for other syrup sweeteners such as honey and maple syrup, is low-GI and rich in fructooligosaccharides (FOS), a type of dietary fibre that acts as a prebiotic. This soluble fibre is unable to be digested by the body, therefore the calorie content of yacon syrup is comparatively low. By feeding the body's good bacteria, yacon syrup is thought to be beneficial in aiding digestion, boosting the immune system by helping to eliminate toxins.
Common uses of Yacon Syrup:
Yacon Syrup can be used as a substitute for just about any other sweetener, working best in place of other syrups like maple syrup, honey, molasses, and rice syrups. It can be used in smoothies, stirred into yoghurt, on cereal, in your morning cuppa, or just about anywhere you would usually add a touch of sweetness. Due to the delicate nature of fructooligosaccharides (FOS), it is not recommended you use Yacon Syrup in cooking or baking as the fragile structure will break down in temperatures above 120°c.
DELIVERY: 2 - 7 business days.

LOCAL DELIVERY: Order before 11AM for same day delivery Mon-Fri. Orders after 11AM Mon-Thurs/before 2PM Friday will be delivered the following day. If you would like to request a specific delivery date up to 6 days in advance (excluding Sundays) please specify in the order notes at the cart.

LOCAL DELIVERY SCHEDULE: Weekdays 2PM-7PM & Saturday 8AM-12PM.

Unsure if you're eligible for local delivery? Check our FAQ's