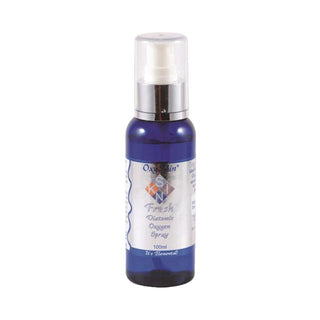 Skin Health

Gluten Free

Dairy Free

Vegan

Vegetarian
Free Delivery
For all orders AU over $95
Quick Dispatch
Get your order in 2-7 business days
OxyMin® Fresh Liquid Diatomic Oxygen is a remarkably stabilised liquid oxygen with on of the highest concentrations of dissolved oxygen available.
Balanced to the near pH of the blood stream, OxyMin® Fresh is totally safe and non-toxic to spray directly on the skin. 
Can be used to freshen breath, tone the skin, set makeup and refresh yourself, your plants or your pets.
Excellent as a skin toner: Spray directly on face morning and night after cleansing
ReFresh your face with a spray anytime through the day.
Freshen your breath by spraying directly in your mouth to prevent mouth bacteria. Can be sprayed on your toothbrush before brushing.
Spray on as an aftershave lotion to prevent shaving rash
Spray directly to minor cuts, bites and stings.
Totally safe: No toxicity to humans or animals
May be used both internally and externally
100ml
DIRECTIONS FOR USE: Hold bottle upright and spray directly on selected areas as many times as desired.
Always read the label and follow directions for use. If symptoms persist, please consult your health care provider promptly.
DELIVERY: 2 - 7 business days.

LOCAL DELIVERY: Order before 11AM for same day delivery Mon-Fri. Orders after 11AM Mon-Thurs/before 2PM Friday will be delivered the following day. If you would like to request a specific delivery date up to 6 days in advance (excluding Sundays) please specify in the order notes at the cart.

LOCAL DELIVERY SCHEDULE: Weekdays 2PM-7PM & Saturday 8AM-12PM.

Unsure if you're eligible for local delivery? Check our FAQ's
Diatomic Oxygen Molecules
Demineralised Living Water
Atlantic Sea Salt