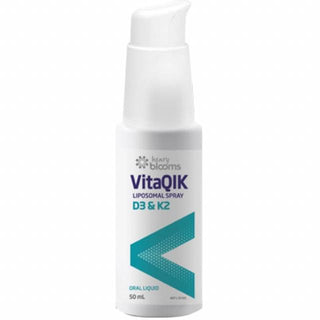 Gluten Free

Dairy Free

Vegan

Vegetarian

Sugar Free
Free Delivery
For all orders AU over $95
Quick Dispatch
Get your order in 2-7 business days
VitaQIK™ Liposomal D3 & K2 works to support healthy immune function, maintain bone health and prevent vitamin D and K deficiencies. Sublingual delivery allows for enhanced absorption and faster uptake while being 100% sugar-free and vegan friendly.
100% sugar free and vegan friendly.
Vitamin D3 & K2
Few foods contain adequate levels of Vitamin D and with our modern lifestyles, adequate sun exposure is not always achieved. This increases our need for Vitamin D from other sources. Vitamins D and K are natural partners, working synergistically and individually to:
Support healthy immune system function.
Maintain bone health and support bone mineralisation.
Promote calcium absorption and maintain healthy calcium levels.
Support healthy cardiovascular system function.
Help prevent dietary Vitamin D and K2 deficiencies.
DELIVERY: 2 - 7 business days.

LOCAL DELIVERY: Order before 11AM for same day delivery Mon-Fri. Orders after 11AM Mon-Thurs/before 2PM Friday will be delivered the following day. If you would like to request a specific delivery date up to 6 days in advance (excluding Sundays) please specify in the order notes at the cart.

LOCAL DELIVERY SCHEDULE: Weekdays 2PM-7PM & Saturday 8AM-12PM.

Unsure if you're eligible for local delivery? Check our FAQ's
Each 2ml dose contains:

Colecalciferol - 25 micrograms
(Vit. D3 1000 IU)

Menaquinone 7 - 10 micrograms
(Vit. K2)