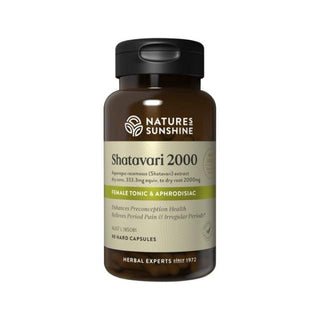 Women's Health

Menopause

Gluten Free

Dairy Free
Free Delivery
For all orders AU over $95
Quick Dispatch
Get your order in 2-7 business days
Shatavari or Asparagus racemosus has a long history of use in Ayurvedic medicine as being a powerful rejuvenating female tonic. Known as the "Queen of Herbs", Shatavari is highly valued for its nourishing effects on the female reproductive system.
Traditional woman's tonic considered to have a nourishing and toning effect on the female reproductive system, which may be due to its phytoestrogenic properties.
Traditionally used in Ayurvedic Medicine as a nutritive aphrodisiac herb.
Traditionally used in Ayurvedic Medicine during menopause as a tonic herb.
Shatavari is a traditional Ayurvedic digestive, antispasmodic herb that may help relieve the symptoms of nonspecific dyspepsia.
Suitable for women of all ages looking for a tonic and libido boost.
Suitable for menopausal women feeling tired, and/or vaginal dryness.
No Added: Gluten, lactose, soy, starch, sugars or salt, wheat products, artificial colourings, flavourings or preservatives.
90 Capsules
DIRECTIONS FOR USE: Adults take 1 capsule twice a day, or as professionally prescribed
CAUTION: While recommended for preconception health, shatavari is not recommended while pregnant or breast feeding. Take two hours away from all prescription medications.
Always read the label and follow directions for use. If symptoms persist, please consult your health care provider promptly.
DELIVERY: 2 - 7 business days.

LOCAL DELIVERY: Order before 11AM for same day delivery Mon-Fri. Orders after 11AM Mon-Thurs/before 2PM Friday will be delivered the following day. If you would like to request a specific delivery date up to 6 days in advance (excluding Sundays) please specify in the order notes at the cart.

LOCAL DELIVERY SCHEDULE: Weekdays 2PM-7PM & Saturday 8AM-12PM.

Unsure if you're eligible for local delivery? Check our FAQ's
Each capsule contains:
Herbal extract equivalent to dry:
Asparagus racemosus (Shatavari) root
2g