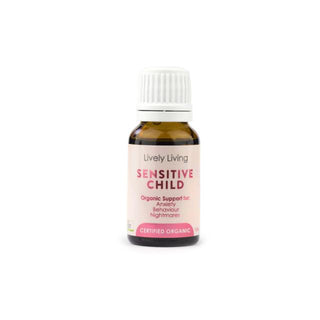 Mood

Stress/Anxiety
Organic

Day/AM

Night/PM
Free Delivery
For all orders AU over $95
Quick Dispatch
Get your order in 2-7 business days
Grounding and balancing child support
This specially crafted blend with both Chamomile and Vetiver has a grounding and soothing effect, providing extra support for those with higher sensitivity or emotional, anxious or behavioral imbalances. It can help to calm and relax both the body and the mind, promoting healthy sleep and aiding in stress relief.
15mL
DIRECTIONS FOR USE: 
Diffuse in aroma diffuser, start with 2-3 drops, depending on the size of your room.
Place 2-3 drops in to an empty nasal inhaler to use on the go.
To use in the bath, place 2-3 drops in to a small amount of the fractionated coconut oil or a liquid castile soap so it doesn't float neat on top of the water 
CAUTION: 
DO NOT use on the skin undiluted. 
DO NOT use internally.
Always read the label and follow directions for use. If symptoms persist, please consult your health care provider promptly. 
DELIVERY: 2 - 7 business days.

LOCAL DELIVERY: Order before 11AM for same day delivery Mon-Fri. Orders after 11AM Mon-Thurs/before 2PM Friday will be delivered the following day. If you would like to request a specific delivery date up to 6 days in advance (excluding Sundays) please specify in the order notes at the cart.

LOCAL DELIVERY SCHEDULE: Weekdays 2PM-7PM & Saturday 8AM-12PM.

Unsure if you're eligible for local delivery? Check our FAQ's