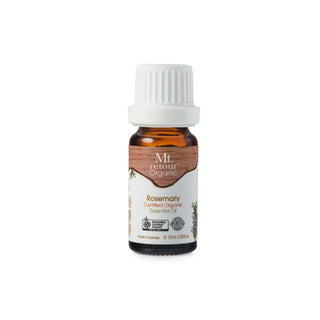 Aches/Pains

Immunity

Mood

Skin Health
Organic

Day/AM

Night/PM
Free Delivery
For all orders AU over $95
Quick Dispatch
Get your order in 2-7 business days
This 100% pure organic rosemary oil from Mt Retour can be diluted with a carrier oil like sweet almond and used on the skin and in the hair as a natural remedy for multiple ailments, as well as around the home. 
Rosemary oil can be used for so many things:
Can help with muscle aches and pains
Helps maintain healthy hair and scalp
Can help with coughs and colds
Can be used to heal acne scars
Around the home it can be used as room freshener to uplift your spirits
10mL 
DIRECTIONS FOR USE: 
To use on skin, use 4 drops in 10mls of carrier oil.
In a bath, use 5 drops.
In a vaporiser, use 9-10 drops.
Mist the oil onto your pillow or a handkerchief to help with respiratory issues.
Add a few drops to your shampoo and conditioner for healthy hair and scalp 
CAUTION: 
Never apply undiluted essential oils to skin, especially on babies and children. 
Do not ingest.
Keep out of reach of children. Essential oils are powerful, and can be dangerous.
Rosemary oil should not be used by people with epilepsy.
Always read the label and follow directions for use. If symptoms persist, please consult your health care provider promptly. 
DELIVERY: 2 - 7 business days.

LOCAL DELIVERY: Order before 11AM for same day delivery Mon-Fri. Orders after 11AM Mon-Thurs/before 2PM Friday will be delivered the following day. If you would like to request a specific delivery date up to 6 days in advance (excluding Sundays) please specify in the order notes at the cart.

LOCAL DELIVERY SCHEDULE: Weekdays 2PM-7PM & Saturday 8AM-12PM.

Unsure if you're eligible for local delivery? Check our FAQ's
100% Certified Organic Rosemary Essential Oil.