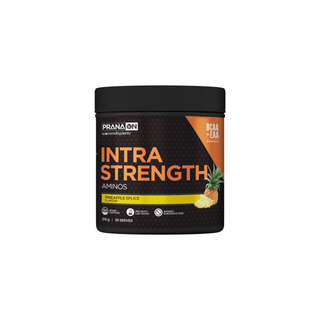 Gluten Free

Dairy Free

Vegan
Free Delivery
For all orders AU over $95
Quick Dispatch
Get your order in 2-5 days
Intra Strength is a concentrated blend of essential (EAA's) and branched-chain amino acids (BCAA's) designed to take your workouts to the next level! This entirely plant-based powerhouse formulation supports hydration, endurance, recovery, muscle growth and repair with added coconut water, electrolytes, plus vitamins, minerals and antioxidants.
If your struggling to make the most of your workout session, try fuelling yourself with PranaOn Intra Strength!
PranaOn has formulated the ultimate amino acid formula to support muscle endurance and energy during workouts. Intra Strength is a powerful blend of Essentail Amino Acids and Superfoods designed to fuel your body with Electrolytes, Vitamins, Minerals & Antioxidants.
210g
DIRECTIONS FOR USE: Mix one serving (one scoop) of Intra Strength into 600-800 mls of water. Stir or shake and consume during exercise on training days.
DELIVERY: 2 - 5 business days.

LOCAL DELIVERY: Order before 11AM for same day delivery Mon-Fri. Orders after 11AM Mon-Thurs/before 2PM Friday will be delivered the following day. If you would like to request a specific delivery date up to 6 days in advance (excluding Sundays) please specify in the order notes at the cart.

LOCAL DELIVERY SCHEDULE: Weekdays 2PM-7PM & Saturday 8AM-12PM.

Unsure if you're eligible for local delivery? Check our FAQ's
Amino Acids (L-Leucine, L-Phenylalanine, L-Histidine, L-Lysine, L-Isoleucine, L-Valine, L-Threonine, L-Methionine, L-Tryptophan), Coconut Water Powder 20% (Coconut Water Concentrate, Maltodextrin), Natural Flavour, Acidity Regulator (Citric Acid, Potassium Citrate), Minerals (Sodium Chloride, Calcium Citrate, Magnesium Citrate), Vitamins (Vitamin C, Vitamin B6, Vitamin B12), Sweetener (Steviol Glycosides, Thaumatin), Natural Colour (Turmeric).