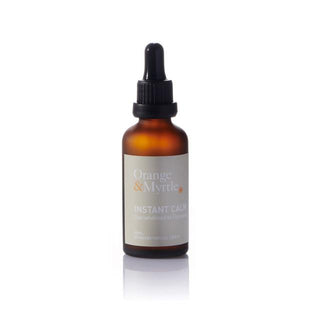 Mood

Stress/Anxiety

Gluten Free

Dairy Free

Vegan
Free Delivery
For all orders AU over $95
Quick Dispatch
Get your order in 2-5 days
Our fast-paced lifestyle can easily take its toll on us emotionally and physically. Anxiety and a general sense of overwhelm often are the first signs that our body and mind need a helping hand to counteract the impact.
Instant Calm are natural anxiety drops for adults that have been successfully used in clinical practice for 30+ years. This specifically formulated blend of homeopathics and flower essences is designed to relieve the symptoms of stress so you can come back to your centre.
Step into a clear and calm version of yourself with this natural remedy by your side.
Negative State: Confusion, Busy mind, Highly-Strung, Worry, Feeling Rushed, Irritable, Overwhelm, Restless, Distracted
Positive State: At-Ease, Relaxed, Focussed, Calmness, Mental Clarity
50mL
DIRECTIONS FOR USE: 
Adults: Take 12 drops 4x daily (before meals and at bedtime) OR take 12 drops every 5 mins for 3 doses.
For best results: Always take the dosage at least 5 minutes away from food or cleaning teeth to guarantee efficient absorption in the mouth.
Always read the label and follow directions for use. If symptoms persist, please consult your health care provider promptly. 
DELIVERY: 2 - 5 business days.

LOCAL DELIVERY: Order before 11AM for same day delivery Mon-Fri. Orders after 11AM Mon-Thurs/before 2PM Friday will be delivered the following day. If you would like to request a specific delivery date up to 6 days in advance (excluding Sundays) please specify in the order notes at the cart.

LOCAL DELIVERY SCHEDULE: Weekdays 2PM-7PM & Saturday 8AM-12PM.

Unsure if you're eligible for local delivery? Check our FAQ's
Active ingredients: Homeopathics & Flower Essences