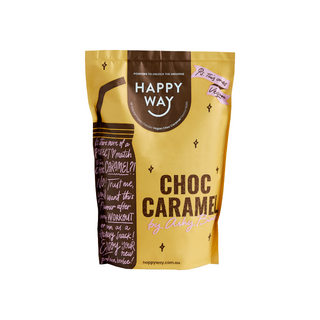 Gluten Free

Dairy Free

Vegan

Vegetarian
Free Delivery
For all orders AU over $95
Quick Dispatch
Get your order in 2-7 business days
100% natural and made with plant-based goodness, our Vegan Protein Powders boost energy, increase strength and nourish the mind and body from the inside out!
'Is there a better match than choc caramel? I don't think so! Trust me, you'll want this flavour after every workout or as a healthy snack throughout your day. Enjoy your new protein bestie!' - Ashy Bines.
Following the success of our first collab product, Triple Choc Fudge, we've teamed up with Ashy Bines again to create a protein powder to add to your stash of choc favourites. It's hard to believe that our Choc Caramel Vegan Protein Powder is full of all-natural, wholesome ingredients when it tastes this good! Rich chocolate and swirls of luscious caramel combine to make the perfect protein powder addition to your smoothies, shakes and sweet treats.
Put away the caramel chocolate bar-this will satisfy the taste buds just the same and is better for you!
500g
DIRECTIONS FOR USE: Combine two heaped tablespoons (30 g) with water or your milk of choice, mixing well in a shaker or blender to create a delicious shake or smoothie. Alternatively, add 30 grams to your morning oats, natural yoghurt or baked goodies. For optimal results, enjoy twice a day.
DELIVERY: 2 - 7 business days.

LOCAL DELIVERY: Order before 11AM for same day delivery Mon-Fri. Orders after 11AM Mon-Thurs/before 2PM Friday will be delivered the following day. If you would like to request a specific delivery date up to 6 days in advance (excluding Sundays) please specify in the order notes at the cart.

LOCAL DELIVERY SCHEDULE: Weekdays 2PM-7PM & Saturday 8AM-12PM.

Unsure if you're eligible for local delivery? Check our FAQ's
Plant Protein Blend - Organic Yellow Pea Protein, Organic Brown Rice Protein (81%), Organic Cocoa Powder (8%), Natural Flavour, MCT Oil Powder (Coconut), Thickener (Xanthan Gum), Organic Maca Powder, Organic Chia Seeds, Organic Psyllium Husk, Himalayan Rock Salt, Sweetener (Thaumatin). GLUTEN-FREE. VEGAN-FRIENDLY. *A tiny amount of non-GMO soy (0.1%), which is derived from the non-GMO Xanthan gum, has been added to ensure a smooth blend with no clumps.